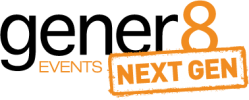 The Virtual Events & Communities Solution
Connecting audiences and communities through next generation online event technologies and virtual engagement techniques. gener8 NextGen is a next generation, interactive, virtual events solution. Designed specifically for organisations, industry groups and communities looking to engage their target audiences, through delivering interactive and inclusive online events with an impact.
In a time when traditional events are restricted or unable to take place, this is the perfect, socially inclusive, hybrid event solution.
gener8 NextGen is a comprehensive online portal and mobile App, where your custom branded event is produced and delivered to your audience in a virtual and interactive setting. It provides an easy to use and powerful online events and community engagement platform.
As your experienced and trusted event delivery partner, gener8 Events utilises our industry leading virtual event technologies and collaboration tools, coupled with 20+ years of events management experience, to deliver meaningful and unique virtual events and interactions to your audience – all in the comfort of their own home or remote location.
Whilst the sheer power and impact of face to face meetings and interactions can never truly be replaced by technology, gener8's NextGen solution, is the next best thing in breaking down the barriers of distancing and isolation, and truly connecting people, communities, industry groups and audiences during these challenging times.
Audiences can immerse themselves in a virtual space of inspiration, discussion and creativity. Navigating through multiple online interactions and drawing outcomes similar to those achieved from a traditional event setting.
Our NextGen solution is for business event users and communities, however with a bit of creativity and flair its purpose and application can extend much broader. 
Create your virtual event brand via our custom branded events interface and online schedule
Deliver interactive event content through virtual keynote presentations, breakout sessions, chat rooms, 1on1 meetings, interactive panel sessions, moderated Q&A's, live polls, exhibitor lounges, abstract 
& poster presentations and pop-up surveys
Keep participants informed via regular group and individual alerts, reminders, news notifications, advertisements and sponsor or speaker announcements
Connect teams through participant profiles, speaker and sponsor bios, in app messaging, 1on1 meetings and virtual chat rooms
Integrate event content and resources with on demand event recordings, presentation materials, resource libraries & FAQ's
Generate revenue opportunities via PAYG event registrations subscriptions and PAYG content downloads
Tie your event together with a professional MC and/or meeting host

who will guide your participants through the meeting portal and keep them engaged and energised with fun facts and content as well as session introductions and commentary.
Bring the audience to life with a virtual event photo gallery and interactive social wall. Bring the real world feeling to your event with a Virtual Event Box delivered to each participants door with all the essential tools and goodies they need to keep them going throughout the day or night. eg. drink bottles, t-shirt, energy bars, stress balls, meal delivery vouchers, wine etc.
Corporations
Not for profit organisations and charities
Industry groups and associations
Committees & boards
Support organisations, sporting clubs and member associations
Special Interest groups and communities
Small businesses and teams
Virtual conferences & forums

Multi-stream, multi-room event collaborations

Educational workshops, professional development, masterclasses and training

Motivational coaching, leadership & wellness programs

Product showcases, launches, demonstrations & tradeshows

Community, sporting and support group events and engagement programs

Virtual incentive programs and rewards

Scientific conference and poster displays

Exhibitions and trade shows

Virtual Event Scenario: Team Conference
Over 2 half days, this is the time for your organisation to 'shine' in front of your partners and customers!
Registration numbers are great, and delegates now start arriving to the virtual lobby.  At home they see the names of each of the other delegates and think, "Who do we need to connect with over the event's duration?". The virtual exhibitor hall is live and bustling with pre-event meetings & discussions are already taking place
Your virtual MC & host appears on the screen after some welcome banter and a short navigational tutorial, ushers them into their first session for the day. A keynote speaker welcomes everyone to the virtual conference with humour and direction for how the 2 days will run…everyone is eager and comfortable.
Business time! Your organisation's leadership team presents the business strategy of your products and services, then directs the attendees to join their pre-allocated break out presentations in various virtual rooms. These sessions are followed by a number of poster presentations and more expo time for delegates to attend ad hoc or prescheduled meetings with exhibitors in attendance or conduct some business matching and networking sessions with other delegates.
Our professional event MC overlays all sessions with regular announcements and good humour to keep the energy and engagement flowing, throwing in a few interactive games and competitions as breakers in between sessions.
While the event has been running, attendees have also been collecting 'scavenger hunt' points as they are rewarded for their participation and engagements in the many events and activities taking place. These points not only act as PD points but also provide valuable insights to Marketing regarding your partners and customers interests. You could even see several of your partners engaging your accounts directly, great!
What a day and a well-deserved break for a couple of hours, before delegates re-join to see the virtual band play at the gala dinner.
Ready for the closing day 2 tomorrow, where your true business impact and value will be presented, to generate business growth!
Virtual Event Scenario: Awards Reception
2-3 days prior, participants receive a special home delivery "virtual event hamper" (contents include, a selection of condiments and nibbles, a bottle of wine, a lanyard, meal delivery voucher and a fancy item of headwear).
On the day of the event, participants dress up in their finest (waist up is fine) and don their select headpiece for the red carpet arrival extravaganza.
On sundown, the evening commences with a virtual wine tasting – led by a leading global wine expert joining us live from the Napa Valley.
We then transition into an eclectic awards ceremony hosted by a leading Australian comedian and your company CEO, broadcasting live from our professionally staged and studio location. Your head of global sales also calls in live from the UK to award your top sales professional of the year.
As each award winner is announced, we cross live to their front door (yes really!) where their award is delivered real time in person by special delivery. We immerse ourselves in their celebration and acceptance speech – and as a sense of excitement builds, we move on to the next lucky winner.
Once the formalities are done, the evening continues with a series of live chat rooms and interactive virtual games as we sit back and enjoy the DJ tunes playing in the background.
gener8's NextGen events solution is a flexible and customisable virtual events platform that can be implemented and adapted for a vast range of needs.
Utilising the Events industry leading premium Centium EventsAir® On Air event management software and application, integrated with leading edge online meeting platforms including Zoom, Vimeo and Twilio, gener8 is able to provide an innovative and reliable virtual events solution for our clients.
Our NextGen solution provides you with a professional and comprehensive end to end virtual events solution. Events can take place from a professional virtual recording studio or from the comfort of your own home or office or a combination of both. Speak to the gener8 team and we can help you achieve your vision and build an event to suit all kinds of budgets.
You bring us the concept – we make it happen!
We work hand in hand with clients to bring any virtual event or community engagement concept to life, producing and executing with precision. Whether it be a one off event or an ongoing series of workshops, coaching sessions, collaborations or incentive based programs, we can help to achieve the impact you are looking for with your audiences and communities. Providing a visually engaging and interactive experience for everyone involved.
gener8 NextGen delivers upon organisational objectives and outcomes much in the same way as what any traditional event might have achieved.